Equine Elixirs Announces Debut of Positude™, All-Natural Hormone Support for Mares, Geldings and Stallions
February 6, 2019 - Wellington, FL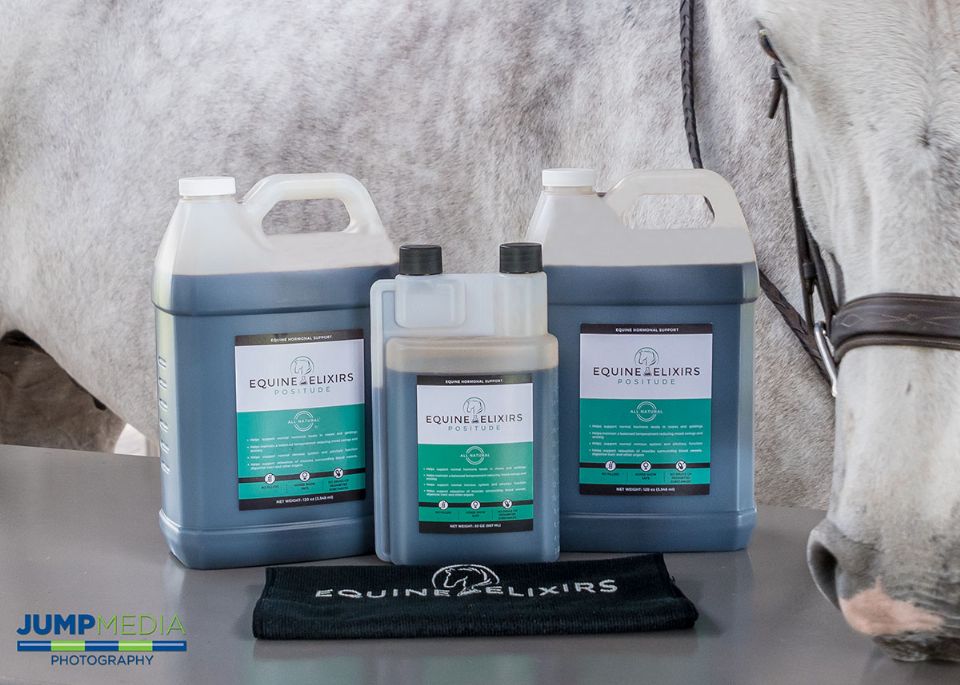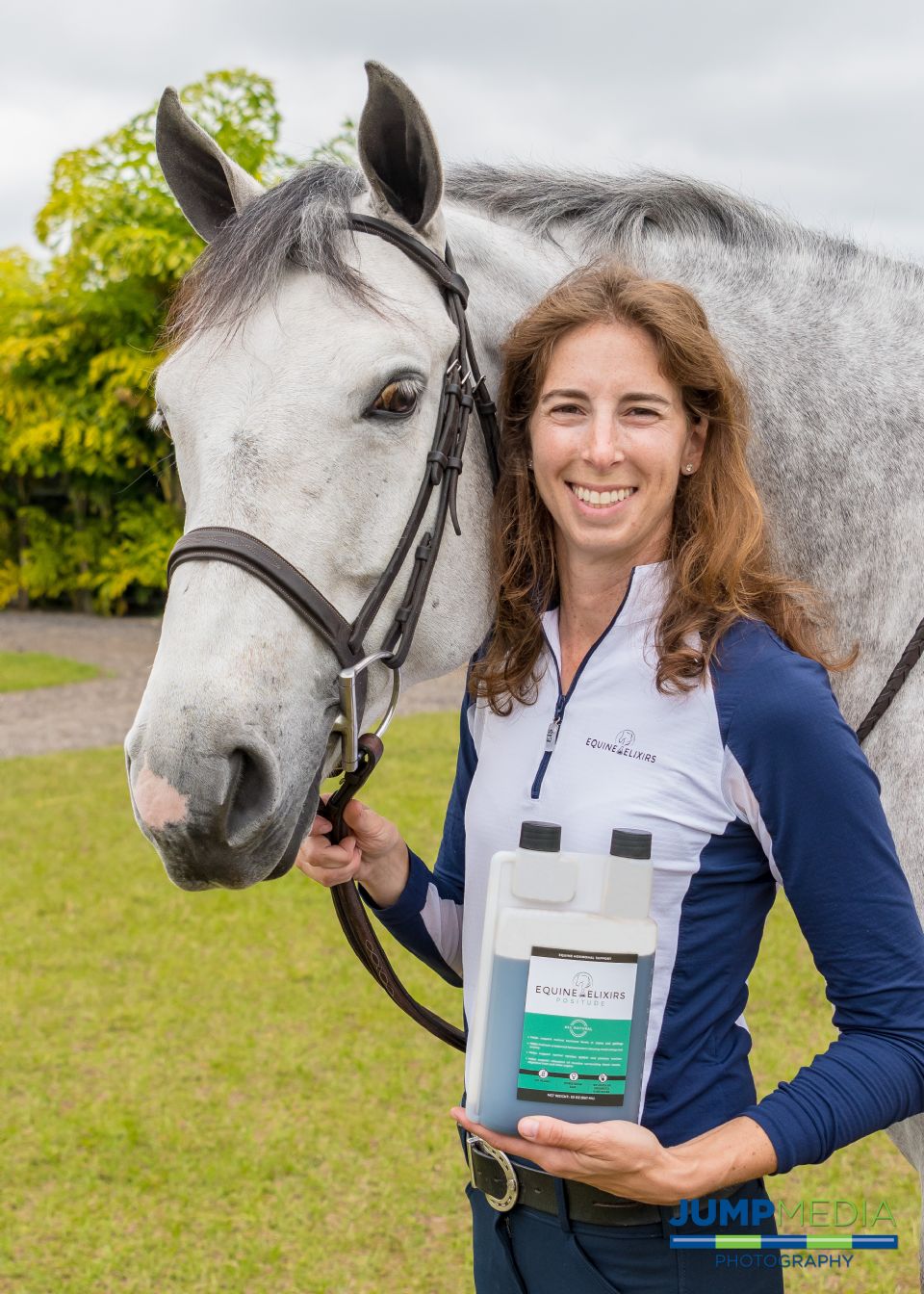 Equine Elixirs' founder, Elizabeth Ehrlich, with Positude.
Photo by Jump Media
Positude™, the new all-natural, orally administered alternative to medroxyprogesterone, or Depo-Provera, joins Equine Elixirs' innovative supplement offerings. Positude™ is an effective, all-natural, affordable, and long-term solution for helping maintain hormonal balance and consistent temperament in horses. Its liquid form, fed twice a day, provides a safe, convenient and consistent delivery system.
Positude™ is made from highly concentrated leaf, berry, and root extracts. Positude™ is more effective than other products made from powders because extracts contain only concentrated active ingredients, while powders include inactive and inert elements, resulting in a less effective product. Daily inclusion of Positude™ as a top-dress in feed allows for a consistent delivery, unlike weekly or monthly injections of Depo-Provera, which result in hormonal fluctuations and peaks and troughs of effectiveness. Positude™ contains no prohibited substances and is safe for showing under USEF and FEI rules.
Positude™ acts on the pituitary to increase the amount and effects of natural progesterone while reducing the effects of estrogen and testosterone, helping to correct temperamental and unwanted behavior. Positude™ also helps negate behaviors associated with estrus without interfering with a mare's estrus cycle. Positude™ is designed to help eliminate undesirable behaviors that can result from hormonal imbalances.
In addition, Positude™ supports muscular relaxation in skeletal and smooth muscles surrounding blood vessels, the digestive tract, and other organs, promoting a healthy nervous system and reducing stress, while helping maintain a quiet disposition.
Positude™ joins Ulceraser®, an all-natural forage-based proprietary blend designed to promote good gut health and prevent the recurrence of ulcers, in product offerings by Equine Elixirs. Over the last two years, Ulceraser® quickly became the go-to supplement for top riders like George Morris, McLain Ward, Scott Stewart, Tori Colvin, Jimmy Torano, and more. Even prior to its official launch, Positude™ is getting rave reviews as well.
"I always hope for a small improvement when using supplements, but [since starting Positude™ three months ago] we have seen a huge difference in three horses that have been tense and super-hot. I am a believer," said John Brennan of the top hunter/jumper/equitation barn North Run, who has since increased the number of horses to which he feeds Positude™.
Equine Elixirs' founder, Elizabeth Ehrlich, is pleased with the feedback she has received from top riders using Positude™ over the last several months. "Positude™ has been in the works for just under a year, and I am thrilled that the horses are responding as well to Positude™ as they did to Ulceraser®," Ehrlich said. "My horse used to receive 8cc of Depo weekly. Now Bella gets two servings of Positude™ a day and she has not had Depo in 11 months. I never liked giving injections, the cost of Depo added up, and Bella would occasionally have a site reaction, all of which are things of the past thanks to Positude™."
A 30-ounce bottle of Positude™, which is a 30-day supply, costs just $49.99, and auto-ship options are available. Find out more and order both Positude™ and Ulceraser® online at www.equineelixirs.com.
Equine Elixirs leads the field in all-natural, equine supplements designed to support equine health. Ulceraser®, a forage-based supplement for gastric health and ulcer prevention, and Positude™, an orally administered proprietary blend providing hormonal support, are all-natural, effective, and affordable solutions for improving horse health. Learn more at www.equineelixirs.com and follow them on Facebook and Instagram.