Catolina MB Named Equis Boutique Best Presented Horse in Tryon
July 1, 2017 -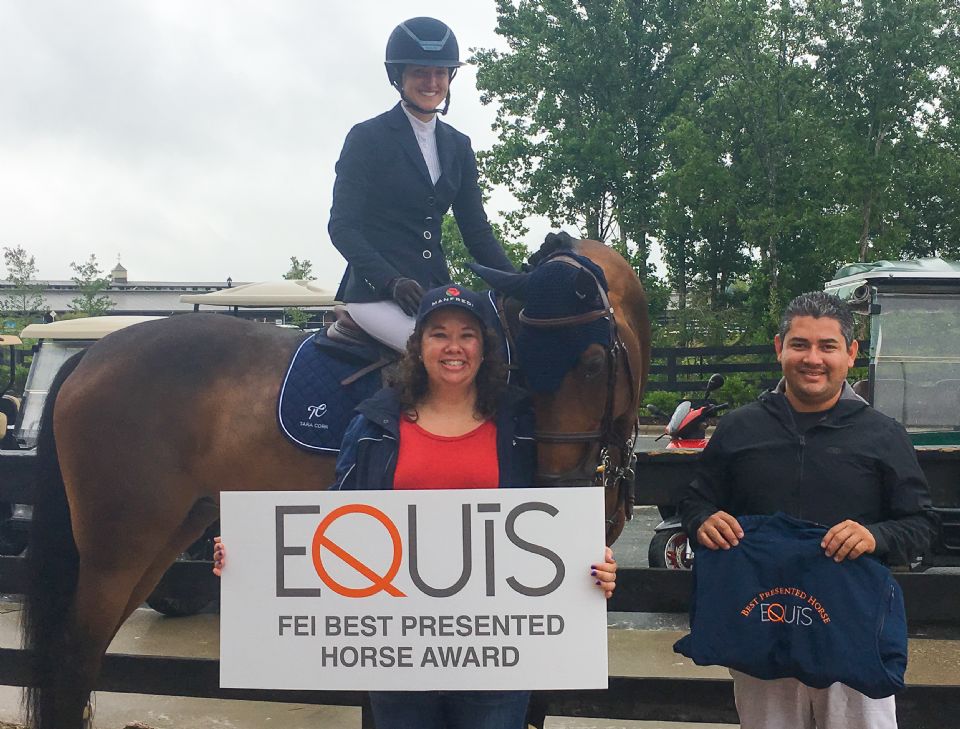 Tara Corr aboard Catolina MB and Alain Lopez (right) are presented with the Equis Boutique Best Presented Horse Award by Sara Roth of Equis Boutique at the CSI2* Tryon Summer V horse show at the Tryon International Equestrian Center in Mill Spring, NC.
Photo courtesy of Tryon International Equestrian Center
Catolina MB, owned and ridden by Tara Corr (USA), was named the Equis Boutique Best Presented Horse Award recipient during the CSI2* Tryon Summer V horse show, held from June 28 to July 2, 2017, at Tryon International Equestrian Center (TIEC) in Mill Spring, NC.
Equis Boutique, a luxury tack and apparel shopping experience, sponsors the Best Presented Horse Award at various FEI-sanctioned events throughout the United States.
Led by FEI Ground Jury President Steve Sarafin (USA) and Foreign Judge Doris Fihman (VEN), the turnout and condition of horses jogging for international competition was evaluated during the FEI Horse Inspection held Tuesday, June 27. Of the 112 horses that were presented, Catolina MB, a 12-year-old Swedish Warmblood mare (Catoki x Calido I) groomed by Alain Lopez, was chosen as the Equis Boutique Best Presented Horse Award winner.
"I have been taking care of the horses on my own lately, and this is the first show since Florida where I have had a groom," said Corr, 26, who owns and operates Empire Equestrian, LLC, from her family's farm in Goshen, NY. "This award is proof that my hard work has paid off and that my horses are conditioned and healthy. For me, that's exciting!"
Lopez joined Corr's team just in time for the Tryon Summer V horse show and prepared Catolina MB for the horse inspection.
"He does a fantastic job keeping the horses in immaculate shape, and I am very lucky to have him," said Corr of Lopez." My horses have a lot of attitude and are a little spoiled, but he is always super correct and very patient with them."
At the FEI Horse Inspection, Corr presented Catolina MB herself, explaining, "I have had her for four years, and I know her so well. I really enjoy being around her, and I think it is important for riders to jog their own horses whenever they have the opportunity."
Corr and Lopez were presented with the Equis Best Presented Horse Award by Sara Roth of Equis Boutique during a ceremony held during the CSI2* Tryon Summer V horse show.
Corr also won the Equis Boutique Best Presented Horse Award at the 2015 Split Rock Jumping Tour in Lexington, KY. For that award, she won a set of Kentucky Horsewear boots and has been shopping Equis Boutique brands ever since.
"Their selection is so great," she said of Equis Boutique. "I really appreciate this award, and I am always on the look-out for Equis Boutique at all the horse shows I am at."
Equis Boutique is a shopping experience for the discerning equestrian and offers the most convenient and luxurious choice for top equine brands to dress both the horse and rider. Featured brands available at Equis Boutique include Cavalleria Toscana, Dy'on, Flex-On, KASK, Kentucky Horsewear, Kingsland Equestrian, Manfredi Equestrian, Parlanti, and Theria Bits.
Visit Equis Boutique on Vendors Row during all events at Tryon International Equestrian Center. For more information, please visit EquisBoutique.com, or look for Equis Boutique on Facebook and Instagram! Email info@equisboutique.com for questions on the stores and their products.